The Body Shop

Shop description
The Body Shop is the original, naturally-inspired and ethical beauty brand. Our body care, skincare and make-up products nourish, enrich and uplift but never make false promises and are never tested on animals.
We search the globe for the finest natural ingredients and harness the skills of small-scale farmers. We help enrich the biodiversity where we grow our ingredients.
Our story started with Anita Roddick's belief in something revolutionary; that business could be a force for good, and in 1976 The Body Shop was born in Brighton, England. Today, our commitment is stronger than ever; we are proud to be original, irreverent and campaign for what's right.
Sales
Any 3 products = -30%
Sale duration: 3.12.2019 - 26.12.2019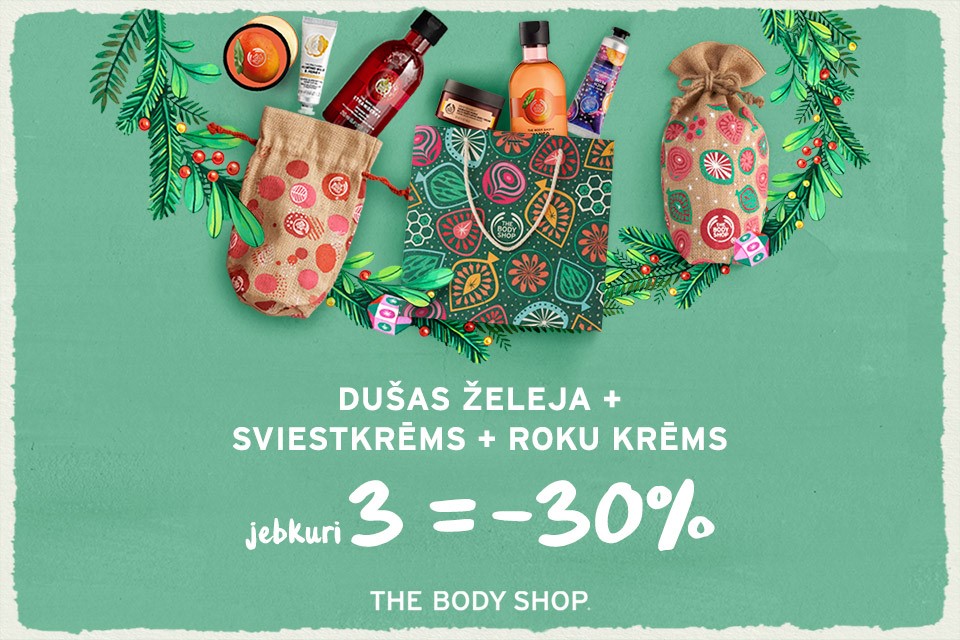 Shower gel + body butter + hand cream = -30%
Create your own gift!
Offer is valid on shower gels 250ml (regular price 8.50€ and 11.90€), body butters 50ml (regular price 7.50€ and 8.50€) and hand creams 30ml (regular price 6.90€) from 3 December 2019 and ends in-store at close of business on 26 December 2019.